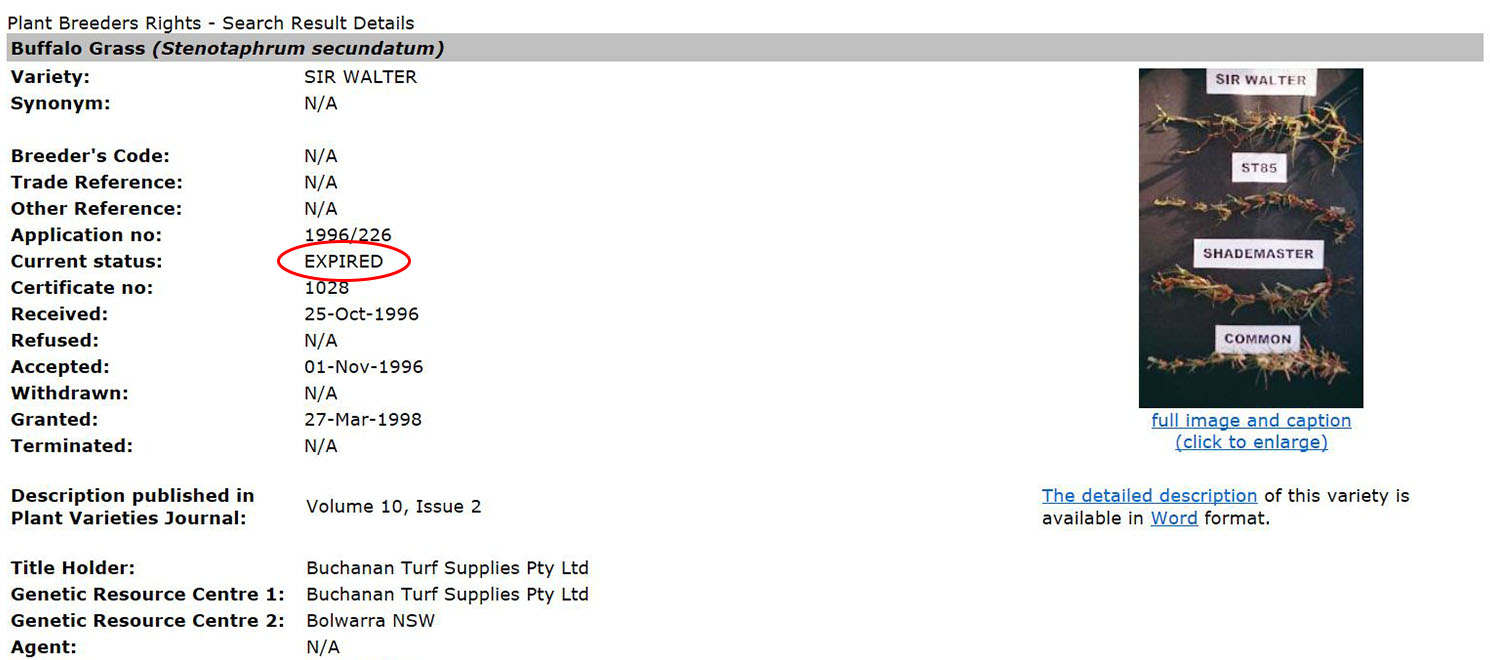 ---
After 20 years of Plant Breeder's Rights (PBR) protection in Australia,
Sir Walter's
PBR expired on 28 March 2018. The
Stenotaphrum secundatum
buffalo variety has been a significant contributor to the growth and development of the Australian turf production industry. As of August 2017, over 70 million square metres of Sir Walter had been sold across Australia. The significant sales were arguably a result of Australia's best turf marketing campaign seen to date. It saw common turf varieties quickly replaced by Sir Walter and the variety name soon became "synonymous" when buying turf. The Sir Walter branding and variety name has its own set of problems and one that you may or may not know about. This includes the attempt to trade mark the word "SIR WALTER" in respect of goods and services in a number of classes, including Class 31: Turf grass within the Federal Court of Australia (e.g.
Shelton IP dated 5 Aug 2015
) and the recent attempt to seek a PBR extension (e.g.
Turfmate dated 16 Nov 2017
). For further information on each conundrum, click on the latter hyperlinks.
The largest problem with the plant variety name Sir Walter is that you can't trade mark a plant variety name. PBR protection allows the title holder to have exclusive rights to, or license other persons to, deal with the propagating material of the plant variety, but s27(5) of that Act prohibits the name of a plant variety being or included in a trade mark in respect of live plants, plant cells and plant tissues. After 20 years, the exclusivity is null and void.
So what does this mean now that PBR for Sir Walter has expired? In recent weeks, months and to be honest years, we have been asked this question. Sir Walter is still being grown by Australian turf producers under the banner of
DNA Certified Sir Walter
and
Sir Walter
at present and will continue to do so for an infinite time. There is debate if growers will actually start trying to sell other varieties of buffalo or even species as "Sir Walter" which could provide further confusion within the domestic market. ASTC Director Matt Roche sought further confirmation from the Plant Breeder's Rights Office at IP Australia on Sir Walter's PBR (end date) and the sale of turf using the Sir Walter
variety name because of confusion within the industry
. Below is a written response provided by Nick Hulse, the Chief of Plant Breeder's Rights on 16 March 2018:
I writing to you to provide further information on concerns you have raised in your correspondence dated 12 March 2018 regarding the possible extension of PBR protection on Stenotaphrum secundatum 'Sir Walter'.
I can confirm that we have received a request seeking an extension of duration for varieties within the taxon Stenotaphrum secundatum under subsection 22(3) and section 69 of the Plant Breeder's Rights Act 1994 ('PBR Act').
The request will be considered against the Assessment Framework for Requests to Extend the Duration of PBR Protection, July 2008 ('EDOP framework'), with modification to account for recent legislative changes.
As set out in the EDOP framework, IP Australia will consider the request and determine if there is a prima facie case for additional action. If a prima facie case is not established, the Minister will notify that the request has not been successful.
If a prima facie case for additional action is established, the Minister will authorise public consultation which will assist IP Australia to conduct an impact analysis and provide a report to the Minister. If upon receipt of this report the Minister forms a prima facie intention to make Regulations, the Minister will publish notice under section 69 inviting submissions within 30 days. We will include you in any consultation if the request proceeds to that stage.
In relation to your specific concerns, I note that PBR protection for the buffalo grass variety 'Sir Walter' (PBR Certificate No. 1028) expires on 27 March 2018. There are no provisions in the PBR Act that allow the Registrar to either delay or prevent expiry of a PBR. There are also no provisions in the PBR Act to restore a PBR right once it has expired. I also note that as a minimum, section 69 of the PBR Act requires the Minister to publish
notice of her intention to make a regulation and invite public submissions within a period of 30 days after publication of the notice, and that the EDOP framework requires additional consultation before this step, as set out above. The request would also require time for consideration by the Minister and the Federal Executive Council. It would therefore be impossible for any regulation to be made before the 'Sir Walter' PBR expires; and any regulation made after 27 March 2018 for the purposes of extending duration would need to operate retrospectively, if it were to apply to 'Sir Walter'.
The Legislation Act 2003 ('Legislation Act') governs retrospective commencement of legislative instruments and provides that any provision in a retrospective legislative instrument which would detrimentally affect the rights or liabilities of a person (other than the Commonwealth or a Commonwealth authority) will have no effect. The Federal Executive Council only makes such retrospective regulations in exceptional circumstances. The Senate Standing Committee on Regulations and Ordinances also takes an interest in retrospective commencement provisions.
In view of the provisions in the PBR Act and the Legislation Act, a regulation made after the 'Sir Walter' PBR expires to extend duration of the taxon Stenotaphrum secundatum may benefit others with PBRs in the taxon but is likely to be of no effect in relation to the 'Sir Walter' PBR.
To download a copy of the letter from IP Australia
click here
. For further information on Sir Walter, including DNA Certified Sir Walter
click here
.
Updated 29 March 2018.